9,000 kg of rice and 1,200 roofing sheets distributed
Aid to Gorkha Earthqauake Victims
Friday, 29 May 2015 11:06
It's been a month since Nepal was hit by 7.8-magnitude earthquake on April 25. The situation in cities is starting to get normal. But, the situation back in the villages is still terrible. Mainly in the 8 affected districts such as Gorkha, Sindhupalchok, Dolakha, Dhading, Rasuwa, Nuwakot, etc. With more than 90% of the houses collapsed or damaged, the villagers are living in temporary shelters. The food supply is inadequate. And though the fear of earthquake is already starting to subside, the fear of monsoon has appeared. The monsoon rains will surely make their condition worse as their temporary shelters aren't that strong and landslides are more frequent in this season. The quake-affected villagers and their home districts are and should be the top-priority in this post-disaster period.
We made a second trip to Gorkha, the epicenter of earthquake and one of the hardest-hit districts, with aid comprising of 9,000 kg rice (300 sacks x 30 kg) and 1,200 aluminum roofing sheets (100 bundles x 12 sheets). We visited 7 villages and 7 community schools distributing relief supplies, assessing the damages and gathering information which we need for our school-rebuilding project and future aid-distribution trips. But our main destination was Manbu village.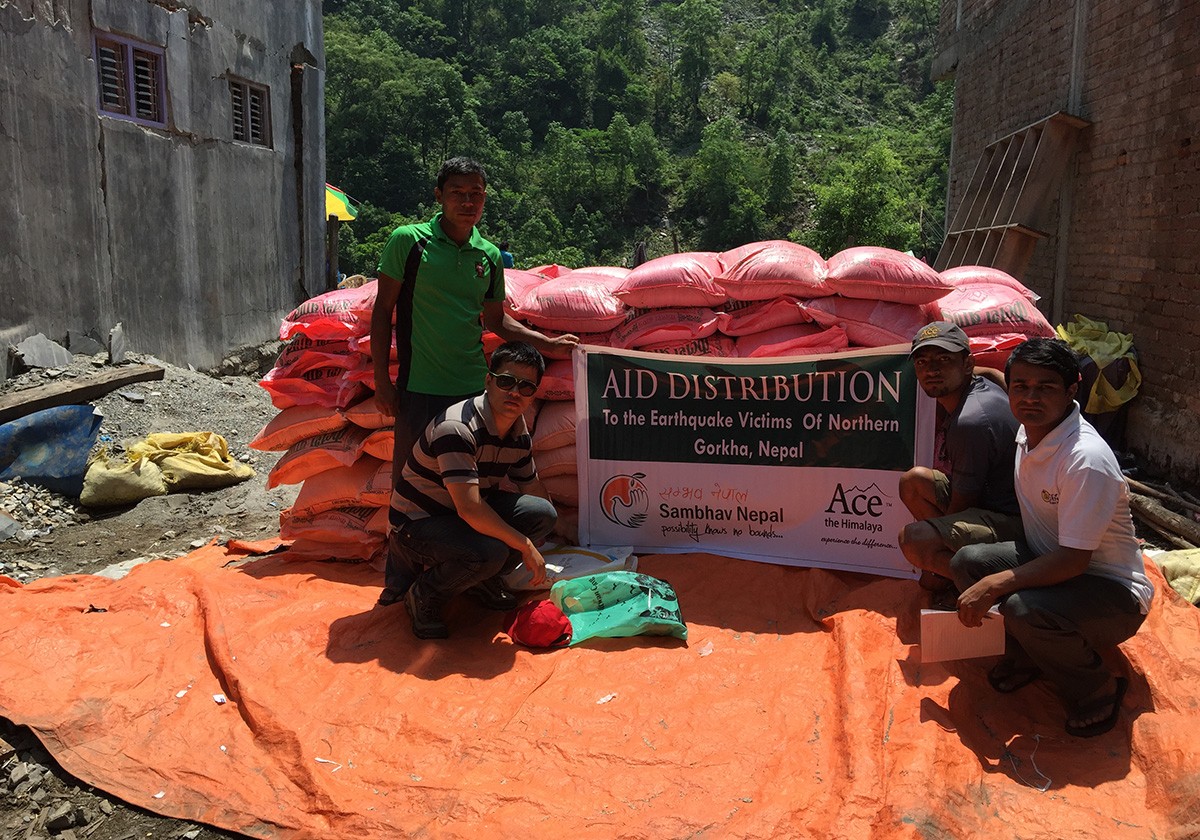 In Manbu village, we distributed 7,500 kg of rice to the earthquake victims
We distributed 7,500 kg rice (250 sacksx30 kg) in Manbu. The villagers explained to us that we were the first aid-distribution team to reach their village. We feel proud that we were able to make a difference in their lives. And we also provided 50 bundles of aluminum roofing sheets to their community school Bhawani Higher Secondary School. Now the school can build temporary rooms to run the classes.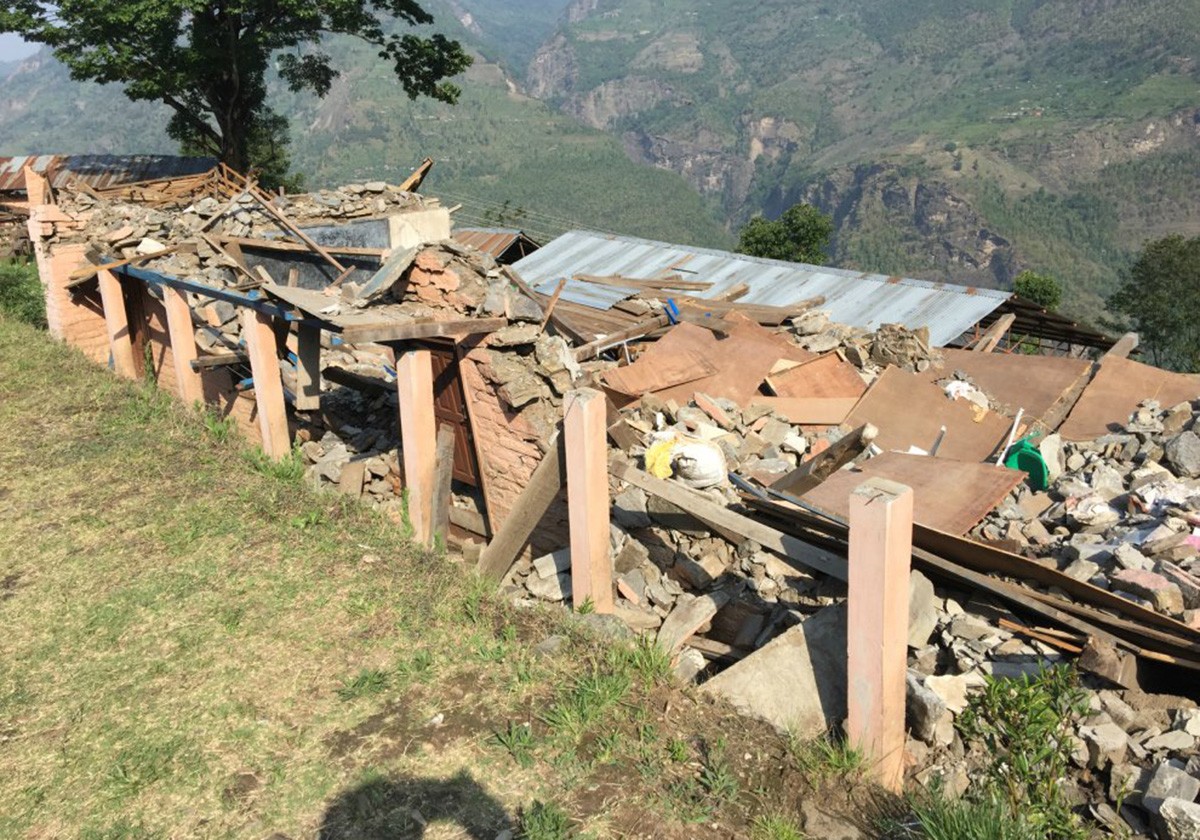 A building of Bhawani Higher Secondary School destroyed by the earthquake
Bhawani Higher Secondary School is one of the chief schools in northern Gorkha, which has more than 1,000 students from grade 1 to 12. It also has a hostel serving over 60 students, mainly the higher-class students (10, 11 and 12) from surrounding villages who would otherwise have to walk for 3 to 5 hours to get to school. The school is very important in the sense that it not only provides education for children of Manbu but also of surrounding villages. But the earthquake destroyed the entire school and its only hostel, damaging the education situation of the northern Gorkha region. The roofing sheets we provided have been a big help to the school. In the past, we had worked on the interiors of the hostel. Now we are aiming to build a well-equipped and earthquake-resistant hostel, which will greatly benefit the higher-grade students of the region.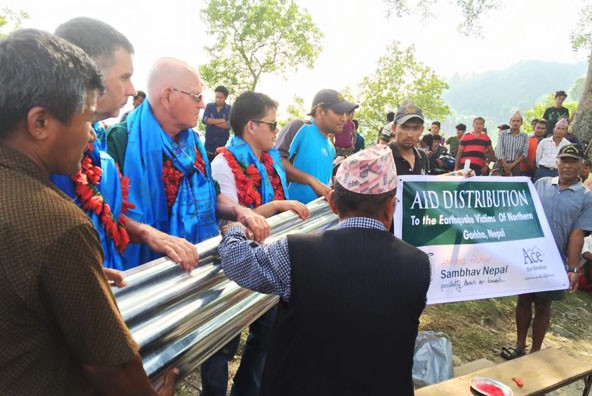 Siddha Devi Higher Secondary School of Aruchanaune villages is one of the
three schools where we distributed aluminum roofing sheets to make temporary classrooms
Other schools where we distributed roofing sheets are: Devi Jal Kumari Lower Secondary School at Aprik village in Aru Arbang Village Development Committe (20 bundles x 12 sheets) and Siddha Devi Higher Secondary School at Aruchanaune village (30 bundles x 12 sheets).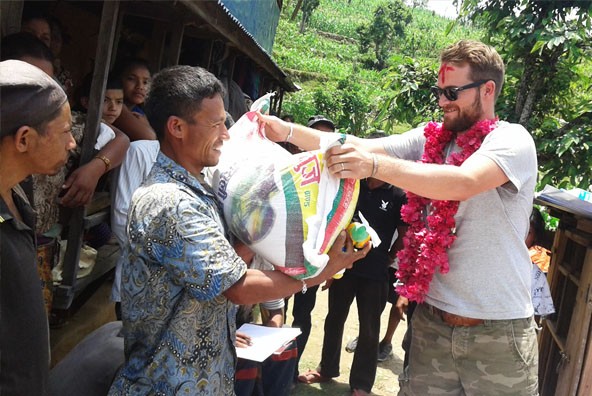 Kudule is the other village where we handed out rice
And apart from these, we also provided 1,500 kg rice (50 sacks x 30 kg) to Kudule village (Ward No 2) of Arupokhari VDC.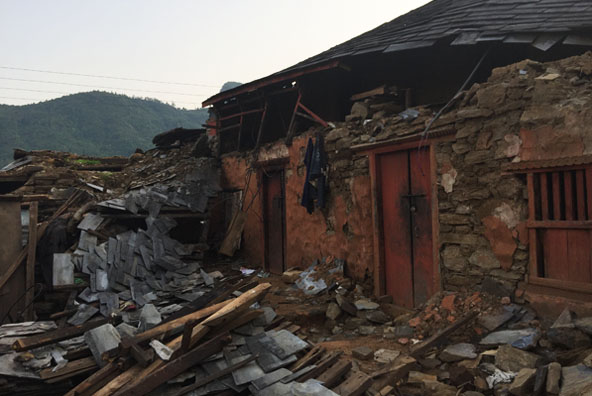 Aprik is the worst-hit village with all the houses damaged
In our aid-distribution trip, we observed that Aprik which is close to the epicenter is the worst-hit village. Of all the 400 houses, not a single one is undamaged. Every house is leveled and all the villagers are now homeless and living in temporary shelters. The principal of the village school, who was trapped under rubbles for 5 hours on the day the earthquake struck, said that though the damages to the houses are sickening, deaths have been low. Only 4 people have died. And 20 have sustained serious injuries. He appeared well and displayed keen interest and enthusiasm while showing us the remains of his school.
The aid we distributed is not sufficient to the quake victims and the schools. Soon we will return to the villages with food. And we are also planning to visit 10 more community schools to distribute roofing sheets (200 bundles x 12 sheets) so that classes can run till these schools are rebuilt. And the advantage of these roofing sheets is that they can be reused during the school construction and can also provide cover when the monsoon starts.
There is so much to be done from providing food to rebuilding both houses and schools but we ourselves can't do enough. We need the help of donors as well. If you want to donate, then please visit our Donate page https://www.sambhavnepal.org/donate-now/
We heartly thank  all those who supported us by raising fund for us, by donating and by giving time and efforts in this time of deep sadness and great difficulty. We wish you success and wellbeing in life!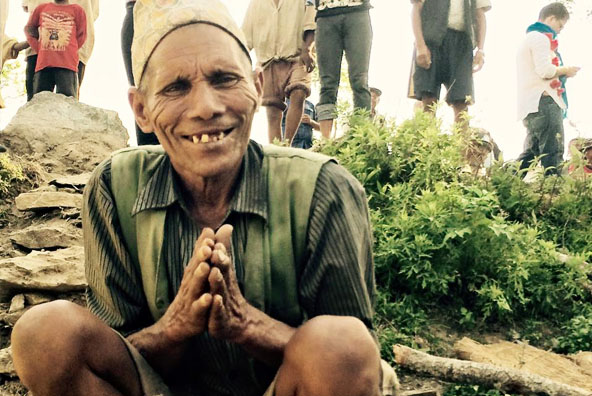 An old man thanked us for distributing aid
Photo Gallery
Damaged Schools
Destruction by Earthquake
Rice Distribution
Roofing Sheets for School
You can read a previous article about our earthquake relief efforts here: https://www.sambhavnepal.org/456-helping-the-victims-of-nepal-earthquake/