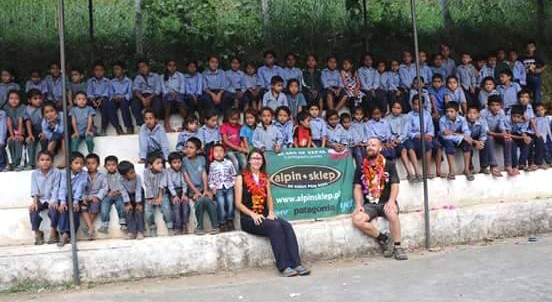 Blankets to Earthquake-affected Students and Teachers
Monday, 16 November 2015 09:36
It's been more than six months since the April earthquake and its consequent major aftershock and we are happy to receive kind-hearted souls who came all the way from Sweden to help students and teachers of Gorkha district, where the earthquake had its epicenter. They distributed blankets and other stuff.
The main sponsor of the distribution was Alpin Sklep without whom it wouldn't have been possible. Alpin Sklep (http://www.alpinsklep.pl) is the biggest tourist shop in the center of Warsaw. It sells clothing and shoes and also a wide range of equipment for climbers and those working at heights.
The earthquake assistance team included the two Swedes and a Sambhav Nepal official. After purchasing 120 blankets and items like pencils, volleyball, toothpaste and toothbrush, the team headed towards Gorkha on a vehicle on October 15. After about 7 hours, they reached Ward no 6 Ratamate village of Arupokhari VDC. And on the same day, a small program was organized at the playground of Bhairabi Primary School and attended by students, their parents and teachers. The two generous Swedish nationals handed over the blankets and stuff they bought to the attendees. Students, their parents and teachers were happy to get help in these difficult times. The earthquake took much from them and the blankets they received will be a big assistance during the approaching winter.
The two Swedes stayed in the house of the villager, who is one of our valuable local contacts and helps in our operations in Gorkha. They and our accompanying official returned to Kathmandu the next day.
We express our gratitude and pray for peace and prosperity to the good-natured Swedish friends and all those who helped us with their time and efforts!
Blankets to Students and Teachers